Bauneg Beg
North Berwick, ME
Bauneg Beg Mountain is comprised of three peaks. The largest peak is 866'. Bauneg Beg is the highest in Southern York County.From Bauneg Beg, looking North-Northwest, Mt Hope (672') in Sanford Maine, is located 2.5 miles away. Mt Agamenticus in York Maine is 12 miles away in a Southeasterly location.
Bauneg Beg was a classic, early ski club operated rope tow hill, that was in operation from 1938 to 1958. It featured a 250' drop, an open slope, a Devil's Den Trail, and was on a NE-SE Exposure.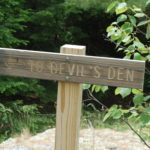 The tow was eventually moved to Bond Mountain in 1958, resulting in the closing of Bauneg Beg.  Today, the area is reforested. In the 40's. During the period of the Great Depression, social and recreational activities flourished throughout the country as an outlet from hard work and hard times.  Social clubs, fraternal organizations, basketball, bowling and the theater were popular indoor activities. Baseball and football were outdoor activities, which one participated or watched. Downhill skiing increased in popularity as a winter sport in the mid to late 1930's and came to York County in 1937.

The Bauneg Beg Outing Club was formed on January 14, 1937 at the D.A. Hurd Library in North Berwick. Attorney George S. Willard of Sanford was named president. North Berwick's Gordon Hilton was vice-president and John Chadbourne was its treasurer. It was decided to have a rotating secretary. Other charter members were: Robert Allen, Philip W. Hussey of North Berwick and Charles Dougherty, Jack Nutter, Raymond Twombley of Sanford.
The club had cleared brush and carved out a trail in the woods on the property of Bernard Quint, who generously allowed the club to use the property without compensation, near the intersection of Ford-Quint and Fox Farm Hill Roads on the leeward side of the 860-foot Bauneg Beg Mountain.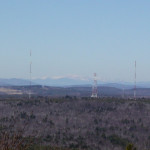 On a good day the ocean is easy to see along with Mt Washington at 337° true only 67 miles away. Follow this link to a picture looking at Mt. Washington from the middle peak of Bauneg Beg. The towers which are in the forefront are that of Mt Hope. If you decide to hike Bauneg Beg during the evening hours you can star gaze along with getting a nice view of Sanford, Maine. A local land trust organization (GWRLT) has purchased some land on top which is open to the public.