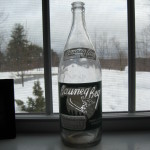 During the period of the Great Depression, social and recreational activities flourished throughout the country as an outlet from hard work and hard times. Social clubs, fraternal organizations, basketball, bowling and the theater were popular indoor activities. Baseball and football were outdoor activities, which one participated or watched.
Downhill skiing increased in popularity as a winter sport in the mid to late 1930's and came to York County in 1937. The Bauneg Beg Outing Club was formed on January 14, 1937 at the D.A. Hurd Library in North Berwick.
The club had cleared brush and carved out a trail in the woods on the property of Bernard Quint, who generously allowed the club to use the property without compensation, near the intersection of Ford-Quint and Fox Farm Hill Roads on the leeward side of the 860-foot Bauneg Beg Mountain.
The 30-degree and 4/5 of mile slope featured a 500-foot rope tow powered by an 85 horsepower Ford flathead gasoline engine for a cost of $825. Members hand groomed the 250-foot vertical drop off the rugged mountainside and skied there all winter, but conditions were less that ideal.
The following season the club changed their name to the Bauneg Beg Development Corporation. Their vision was that of grandeur. Philip Hussey, president of the then Hussey Manufacturing Company in North Berwick, and ski enthusiast, spoke to the group about his company's experience and expertise in building ski jumps. He and chief company engineer, Ed Willey had returned from Lake Placid, NY touring the Olympic facility there including a ski jump they had manufactured and installed. They were also thrilled with a bobsled ride during their visit.
Hussey was an innovator in ski area equipment in the 1930's. Their Winter Sports Division made jumps at Gunstock, Berlin, Lebanon, NH, and in Colorado, as well as, chairlifts and sled runs all over the world. Jack Nutter was elected president in 1938 and there were 225 paid members. A 4000-watt generator was purchased and installed to produce electricity for a snack bar, warming hut and floodlights.
The grand opening for the members and public was held on Sunday, January 9, 1938. The weather cooperated somewhat providing 4-5 inches of new snow. Not ideal, but a reported 1000 people came to the hill to ski, toboggan and snowshoe. Traffic was snarled on both Ford-Quint and Fox Farm Hill Roads. The following weekend Bernard Quint plowed out a field after a heavy snowfall to hold 315 cars. Fifteen hundred patrons attended and enjoyed a day of ideal conditions. Members were invited to a moonlight ski in the evening followed by an oyster stew at a nearby farmhouse.
Subsequent weekends were just as successful and free busses ran from Sanford, Biddeford and Portland to the slope. Snow was plowed and piled up to make a temporary ski jump. A jumping club from Biddeford put on exhibitions. The trail that had been previously cut through the rugged terrain had to be modified for safety. The trail dubbed Devils Den, named after Bauneg Beg folklore, was over 2000-feet long and intermediate skiers at best would dodge boulders and trees during their speedy run.
Harland Roberts who grew up abutting the slope recalls the early days of its operation. "It was surprising how many people went there on weekends. Cars were parked on both sides of the roads. Asked if he knew what the lift ticket price was then, he countered, "I don't know, I never paid I just went over there." Some skiers wandered off course and shushed down his family's field and jumped the road and went down another field. A fete he tried a number of times.