North Berwick, ME – Bauneg Beg Mountain is part of the Bauneg Beg Conservation Area. A great family hike, easy, great views, and located in North Berwick Maine. The protected area is part of the Great Works Regional Land Trust and the Town of North Berwick. The peak of Bauneg Beg stands at 866′ which is higher than the neighboring Mt. Agamenticus located in York, Maine.
The views on top of Bauneg Beg offers a surprising vantage point. During your hike up, large boulders, cliffs can be seen, forming "Devil's Den." Named for the sense of enclosure created by the rocks and summit ledges. Linny's Way trail will bring you upwards along side Devils Den.
The main trail head is located on Fox Farm Hill Road, about 7 miles northwest of town of North Berwick. The Bauneg Beg Trail starts at the back of the parking area behind an information kiosk.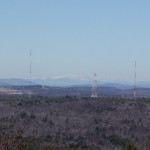 On a good day the ocean is easy to see. Looking at Mt. Washington from the middle peak of Bauneg Beg, the towers which are in the forefront, are sitting on top of Mt Hope. If you decide to hike Bauneg Beg during the evening hours you can star gaze along with getting a nice view of Sanford, Maine.
Bauneg Beg has a long history of providing recreation for the local area. In January 1937 the Bauneg Beg Outing Club was formed. The club cleared brush and carved out a trail in the woods on the property of Bernard Quint, near the intersection of Ford Quint and Fox Farm Hill Roads on the leeward side of the 860-foot Bauneg Beg Mountain.
Forests on the uplands are dominated in some areas by second growth red oak mixed with beech and sugar maple, or in other areas mixed with white pine or hemlock. Forested swamps are dominated by various combinations of red maple, hemlock, and yellow birch. Tall shrubs such as alder, high bush blueberry, winterberry and mountain holly dominate the cover in some of the more open wetlands. Larger wetlands tend to occur in stream basins where local geology has impeded drainage. Smaller wetlands and vernal pools are scattered over the landscape occurring both in well defined stream drainages and in isolated locations perched on hillsides. Portions of the area were historically cleared for agriculture but have mostly returned to forest.