Bauneg Beg Mountain is comprised of three peaks. The largest peak is 866'.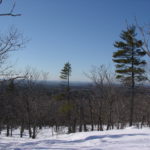 Bauneg Beg is the highest in Southern York County.From Bauneg Beg, looking North-Northwest, Mt Hope (672') in Sanford Maine, is located 2.5 miles away. Mt Agamenticus in York Maine is 12 miles away in a Southeasterly location.
A great place to hike with the family !
 On a good day the ocean is easy to see.  Looking at Mt. Washington from the middle peak of Bauneg Beg, the towers which are in the forefront, are sitting on top of Mt Hope. If you decide to hike Bauneg Beg during the evening hours you can star gaze along with getting a nice view of Sanford, Maine.
A local land trust organization (GWRLT) has opened up some very nice family hiking trails to the public.
[live-weather-station-justgage device_id='2c:3a:e8:26:01:e5' module_id='m1:c0:00:00:00:01' measure_type='temperature' design='half-flat-standard' color='lgt-bw' force='' pointer='external' title='meaningtype' subtitle='meaningtype' unit='unit' size='medium']
[live-weather-station-justgage device_id='2c:3a:e8:26:01:e5' module_id='m3:c0:00:00:00:01' measure_type='rain_day_aggregated' design='half-flat-standard' color='lgt-bw' force='' pointer='external' title='shorttype' subtitle='meaningtype' unit='unit' size='medium']