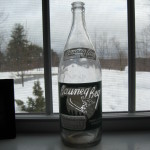 During the period of the Great Depression, social and recreational activities flourished throughout the country as an outlet from hard work and hard times. Social clubs, fraternal organizations, basketball, bowling and the theater were popular indoor activities. Baseball and football were outdoor activities, which one participated or watched.
Downhill skiing increased in popularity as a winter sport in the mid to late 1930's and came to York County in 1937. The Bauneg Beg Outing Club was formed on January 14, 1937 at the D.A. Hurd Library in North Berwick. Attorney George S. Willard of Sanford was named president. North Berwick's Gordon Hilton was vice-president and John Chadbourne was its treasurer. It was decided to have a rotating secretary. Other charter members were: Robert Allen, Philip W. Hussey of North Berwick and Charles Dougherty, Jack Nutter, Raymond Twombley of Sanford.
The club had cleared brush and carved out a trail in the woods on the property of Bernard Quint, who generously allowed the club to use the property without compensation, near the intersection of Ford-Quint and Fox Farm Hill Roads on the leeward side of the 860-foot Bauneg Beg Mountain.
The 30-degree and 4/5 of mile slope featured a 500-foot rope tow powered by an 85 horsepower Ford flathead gasoline engine for a cost of $825. Members hand groomed the 250-foot vertical drop off the rugged mountainside and skied there all winter, but conditions were less that ideal.
The following season the club changed their name to the Bauneg Bed Development Corporation. Their vision was that of grandeur. Philip Hussey, president of the then Hussey Manufacturing Company in North Berwick, and ski enthusiast, spoke to the group about his company's experience and expertise in building ski jumps. He and chief company engineer, Ed Willey had returned from Lake Placid, NY touring the Olympic facility there including a ski jump they had manufactured and installed. They were also thrilled with a bobsled ride during their visit.